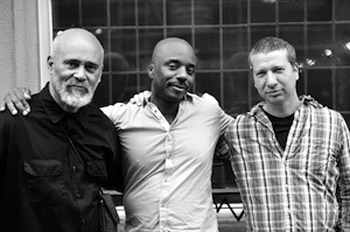 The name sums it up – Digital Primitives are both modern and
ancient, explorers and researchers, deeply grounded in the past
while carving out a new path into the future.
The trio dig deep to unearth the roots of American music, fusing
a new sound from free jazz, blues, funk, folk, with accents from
the music's African antecedents.
While saxophonist Assif Tsahar, multi-instrumentalist and
instrument builder Cooper-Moore, and drummer/percussionist
Chad Taylor are all powerful individual performers, they're
quick to assert that Digital Primitives is a band –
not three musicians jamming, definitely not a leader and
sidemen.